* Contractor's
Calendar
CASE HISTORY: Independent contractors anticipate receiving the annual contractors' calendar from a national brick supplier. The company's yellow and black color scheme creates a calendar that is used daily to schedule jobs, figure days remaining and plan future activities.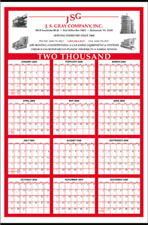 * Year-at-a-glance
CASE HISTORY: This popular calendar has advertised just about everything -- fire trucks, trains, eggs, milk, teachers, nurses, steel, rubber, farmers, laboratories, refrigeration, insurance, power appliances, paper and oil.
* Jumbo U.S. Map
CASE HISTORY: Each year offices around the world receive their international company's world map calendar with each office and manufacturing plant identified.
* Desk Pad Calendar
CASE HISTORY: So customers would identify Brand X heat pumps with him, a heating and air conditioning dealer used Brand X's logo and heat pump drawings down the side of a jumbo desk planner. Brand X helped pay for the calendars as part of a co-op advertising program.